Best Newcomer at Lloyd's of London Art Exhibition 2013. 
Having been an insurance broker turned grain trader for my career, I now describe myself as a ceramic sculptor specialising in alternative representation and bacchanalia.
My work has progressed through figurative charcoal/ink drawing and oil on canvas to working in clay which provides the necessary vehicle for evolving three dimensional representations. By employing various sculptural techniques followed by the many methods of glazing, my work has moved in some interesting directions.
From tiles through three dimensional figures to my present sculptural padlocks where both glaze and kiln proof transfers are added, an intriguing parody evolves.
'Pont des Artes' over the Seine has been my launching pad for this latest project where hundreds of couples have expressed their eternal love by adorning the footbridge with padlocks enscribed with their names. By converting photographs of these locks, the bridge and graffiti etched trees along the river bank into transfers and variously incorporating them into my work, an alternative view of this craze evolves. To that extent, I must say  that these padlocks have now become my canvas.
This year (in October 2013) I exhibited three of my 'Lovelocks' in the Lloyd's of London Autumn Show and was very pleased to be awarded the prize for 'Best Newcomer in Show'. (Lloyd's Art Group)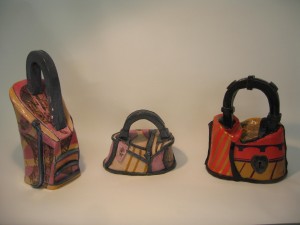 Lovelocks in the 2013 Autumn Show at Lloyd's of London
CERAMICS     LOVELOCKS    CERAMIC TILES